*Featured on Matador Network
WHEN SURFERS THINK of Central America, Guatemala is often not even on the list. The focus of most travelers to Guatemala is on the colorful villages and stunning landscapes of the country's mountainous interior. That is about to change as surfers recognize the incredible, consistent swell that graces Guatemala's Pacific coastline, and as travelers of all stripes discover the simple charms of the tiny fishing village of El Paredon.
It's off the beaten path of surf travel.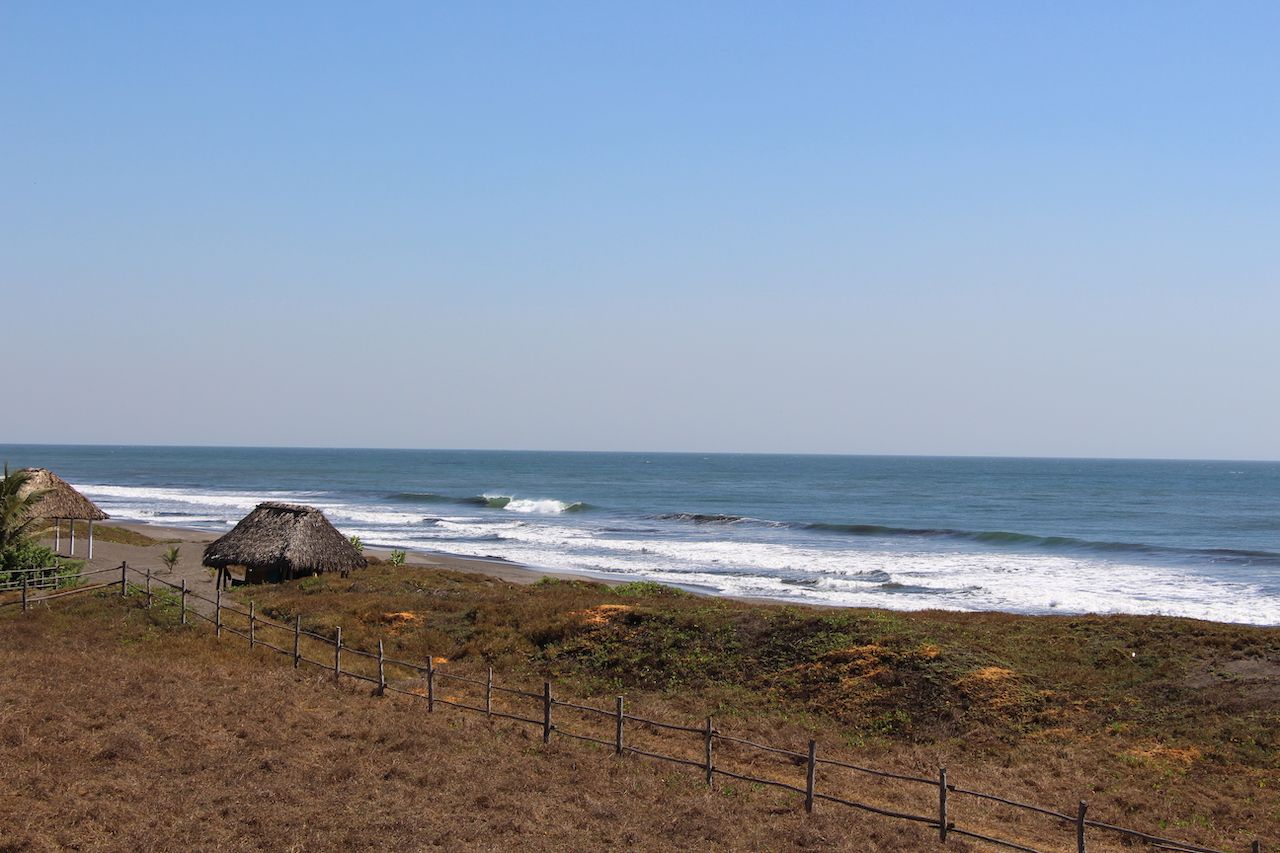 Photo: Robin Izaguirre/Shutterstock
A two-hour drive down a winding mountain road will lead you away from the quaint colonial city and backpacker's hub of Antigua, westward towards the Pacific coast. After an hour and a half, the highway ends and a loose sand road traces the coastline, funneling into Sipacate Naranjo National Park. There, where the mountains halt and give way to dense mangrove forests, black volcanic sands, and merciless tropical sun, you will find the diminutive fishing village of El Paredon, Guatemala.
Central America has attracted surfers to its Pacific coast for decades. Every summer — when it's actually winter in the Southern Hemisphere and storms created abundant south swells — surfers from all over the world flock to Mexico, Costa Rica, Nicaragua, Panama, and El Salvador in search of perfect, uncorrupted surf.
Guatemala, however, has managed to fly under the radar as a surf destination until recently. The country has existed as a vagabond's paradise for years, but the lack of a coastal highway and the absence of point-break-friendly topography has created the inaccurate impression that Guatemala is a subpar surf destination. The reality is that Guatemala's south-facing coastlines receive reliable swell year-round, often in the form of powerful, barreling waves.
It's akin to traveling in a different time — for now.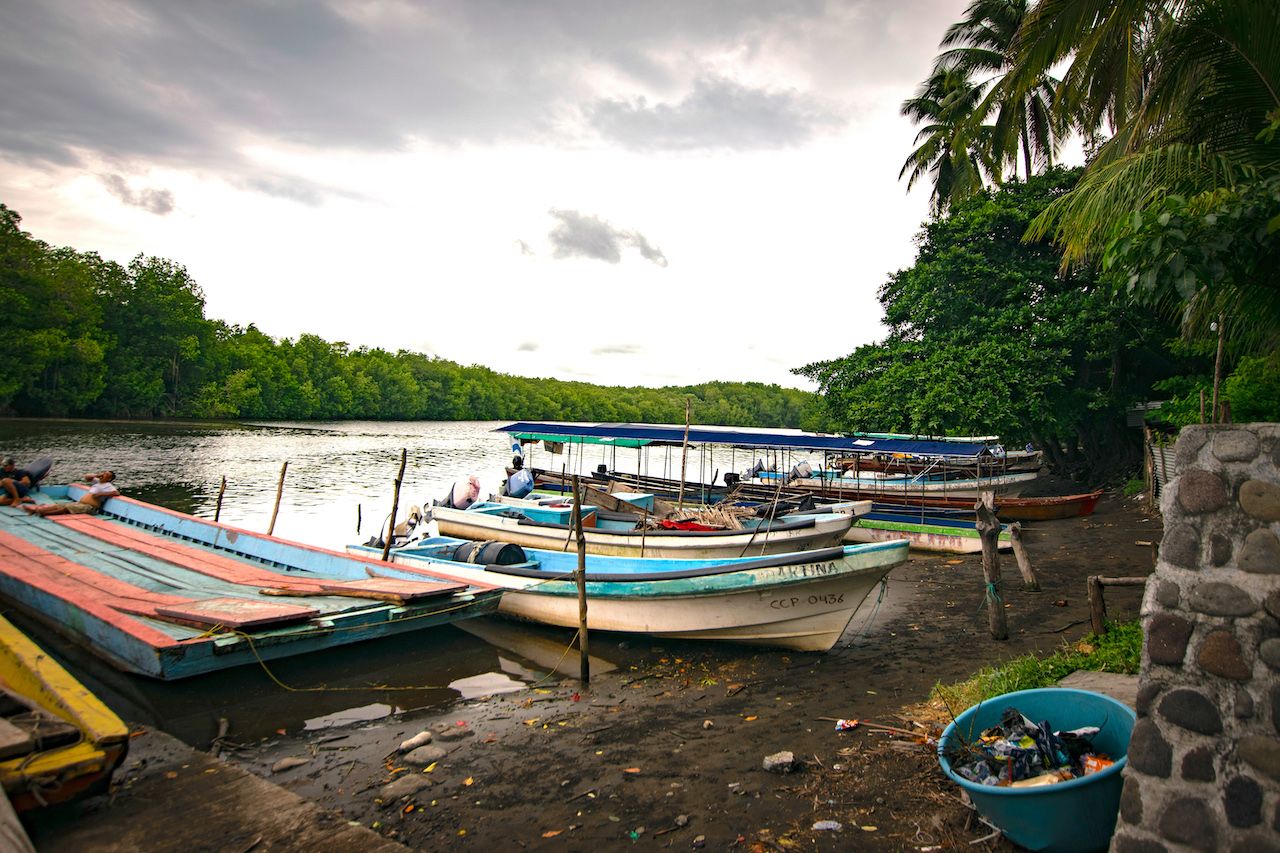 Photo: Morgan Bernand
El Paredon has long been a local hotspot for holiday weekends and beach getaways for residents of Guatemala's more populous interior. But its budding reputation as a backpacker's town with a high-octane beach break is beginning to attract visitors from outside the country. El Paredon exists in a state of flux, stuck between what it was and what it may soon become. Those lucky enough to have visited the black sand shores know it as a charming coastal community that makes up for what it lacks in modern comforts with a welcoming spirit, invigorating surf, and a simple way of life.
While there is one hotel and one hostel with air-conditioned rooms, plus a small community of villas to rent further down the beach, most of the town's lodging options exist in the open air under thatched roofs. WiFi is a scarce commodity in this part of Guatemala, which adds to the town's charm since you'll actually be able to unplug. Within the dusty, sand-packed streets of the town, a mere 150 feet past the women kneading dough to churn out freshly made tortillas by the dozen, travelers will find an internet café housed in a concrete shell guarded by a garage door. Located next to the town's bakery, tourists savor the aroma of sweet breads as they desperately attempt to stay connected with the outside world. If you're in El Paredon for long enough, you may find yourself enjoying life unplugged.
It's not a far detour from popular backpacking routes.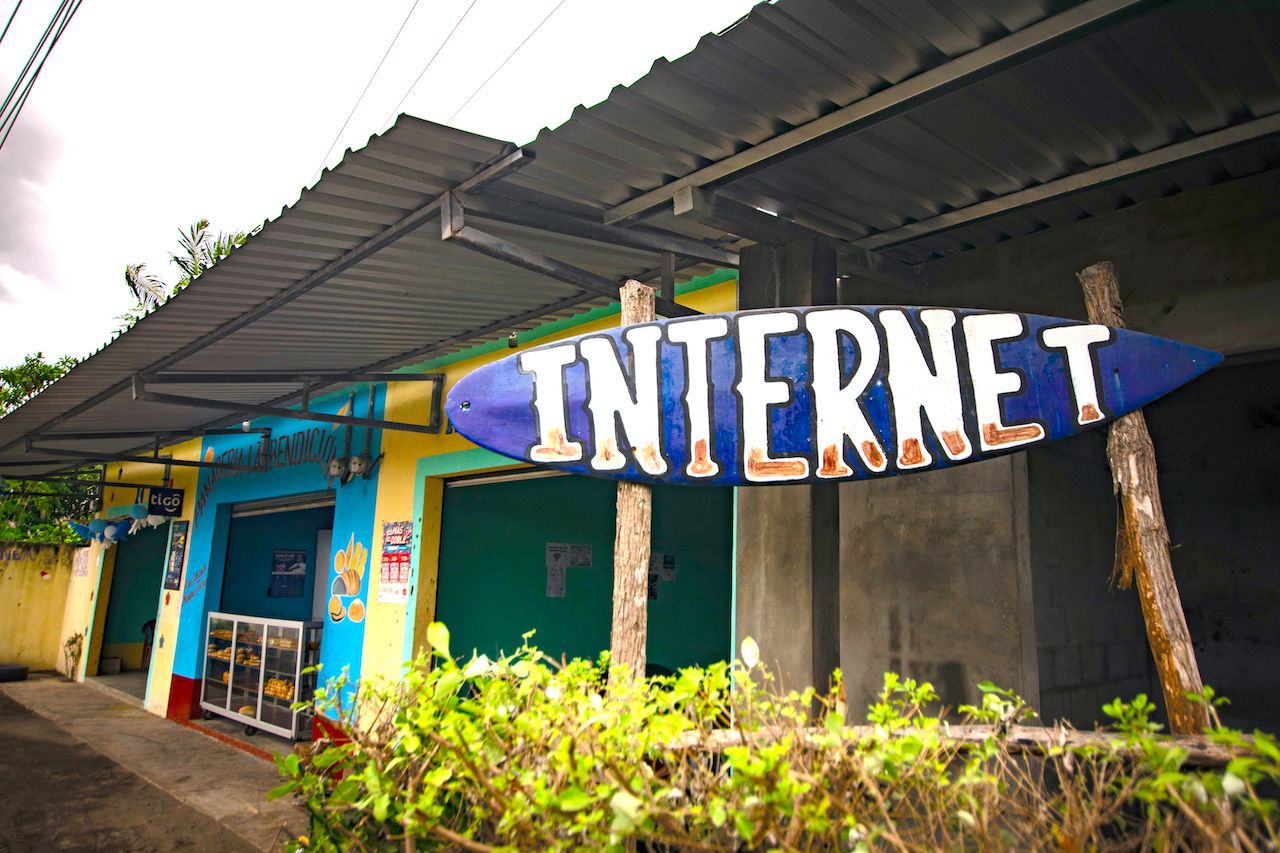 Photo: Morgan Bernand
Guatemalan sites like the Mayan ruins of Tikal, the cobblestone streets of Antigua, and the sundry lakeside villages along the mountainous shores of Lake Atitlan attract backpackers in droves. Some of these travelers find the country so enthralling they never leave. These attractions are in the country's interior — where the stunning Sierra Madre de Chiapas mountain range dominates the landscape and makes Guatemala a wonderland for outdoors enthusiasts.
The coast, however, has not received as much attention from travelers and lacks the tourism infrastructure of the interior. Despite the lack of a coastal highway or paved roads, El Paredon is a mere two-hour drive from Antigua and roughly three hours from Lake Atitlan. With the recent recognition of El Paredon as a serious surf destination, daily shuttles now run between the coast and the popular interior sites.
It's growing.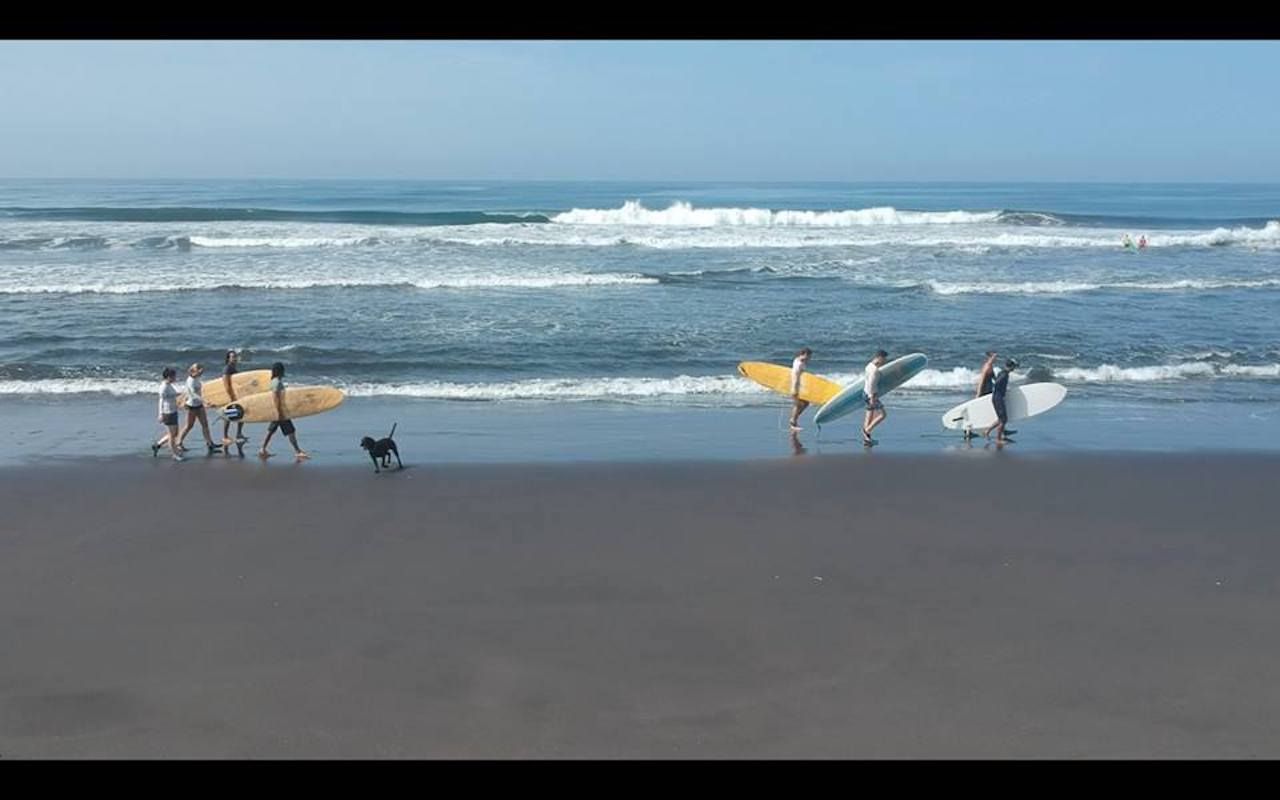 Photo: Cocorí Lodge El Paredon/Facebook
To find out more about the surf scene in El Paredon and throughout Guatemala, I tracked down the guys behind surfinguatemala.com for a post-surf conversation on the beach in Paredon. Diego, Ito, and Walid — the founders of surfinguatemala.com and Cocorí Lodge — are part of a small and growing community of native Guatemalan surfers.
The founders hail from Guatemala City but grew up exploring the powerful Pacific coastline of their home country in search of waves. The trio first founded surfinguatemala.com to chronicle the various breaks that exist in the country, but the site has since evolved into a business with the sole purpose of getting the word out on the growing Guatemalan surf scene.
At the time of the site's inception over 15 years ago, there were perhaps 50-100 surfers total in Guatemala. El Paredon had recently come to the attention of local surfers and foreign business owners when a road was built through Sipacate Naranjo National Park, accompanying the construction of a nearby new marina. Previously, the town was accessible only by boat.
Today, surfers can choose from a handful of different surfer-focused hostels/hotels that vary in price and quality. There are a small number of Airbnb options, where travelers can stay under mosquito nets and thatched roofs. Each hotel has an accompanying restaurant, and there are a few local fondas, or local eateries, which are no more than outdoor kitchens with dirt floors that serve delectable fresh, local flavors.
With the government's plans to pave the road through the national park to make the marina and El Paredon more easily accessible, travelers can expect to see new lodging and dining options in the coming years. While growth is always a delicate situation with surf destinations, the founders at surfinguatemala.com and Cocorí Lodge are confident that the growth will remain sustainable with a focus on maintaining the pristine beach break.
There are serious waves.
Photo: surfinguatemala.com/Facebook
When I arrived for my first surf in El Paredon, the surf forecast for the next few days looked mediocre at best — not typically a welcome sight on a surf trip. The groundswell was small at just two feet, and the period was relatively short for Central America at nine seconds. (Short period waves follow each other back-to-back, usually carrying less energy in each one than those that have condensed the swell's energy into fewer, more spaced-apart waves). When I stepped onto the beach, however, I was met with pumping, head-high surf that packed a serious punch.
I was surprised to find how much power I felt in the ocean during such a mediocre run of swell. And with the morning offshore winds, it turned out to be a remarkable session. This happened a few days in a row until the forecast switched to objectively good surf, which it was as well.
I brought up the forecast anomaly with guys at surfinguatemala.com to try to understand what was happening in the water. It turns out, El Paredon is entirely south facing and completely out of the shadow of the Galapagos Islands. This means that any south swell that creeps up out of the Antarctic will hit El Paredon in full force, without bending or yielding in any way. The result, as Diego puts it, is that "there's always a wave to surf," either in El Paredon or somewhere else on Guatemala's unsullied coastline.
The power of uninhibited swell can be felt in the water at all times in El Paredon. It should be noted that it is not a beach where beginners can simply wade into the water at any time without instruction or guidance. The rip currents there are some of the strongest I've felt in nearly a decade of surfing up and down Central America. That being said, at the right tide and under proper guidance, surf lessons ensue each day at El Paredon with great success.
It's environmentally aware.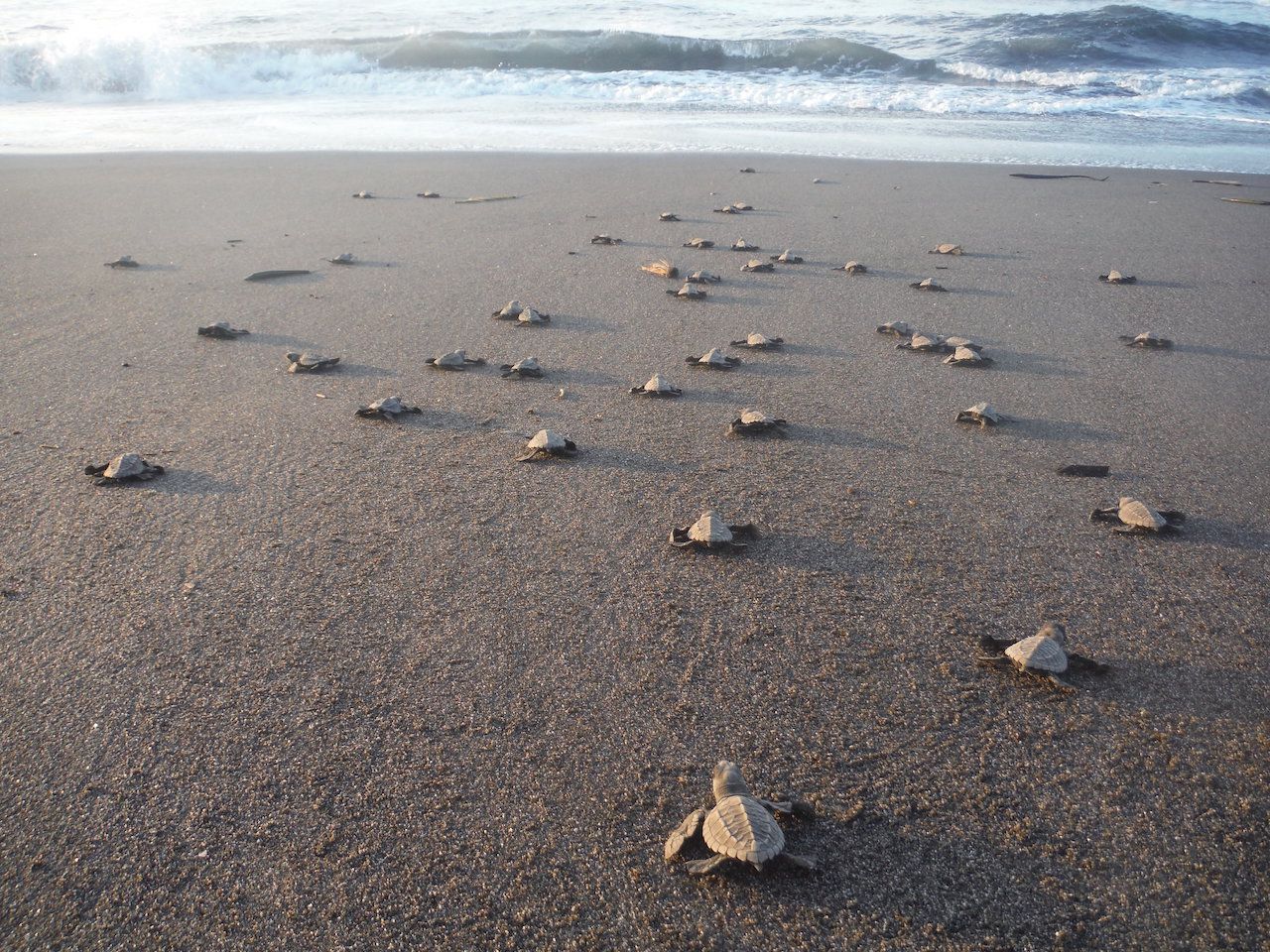 Photo: noga f/Shutterstock
Sipacate Naranjo National Park, a government protected nature reserve, is home to a vast and ever-changing ecology of coastal plants and animals. The park is also home to a sea turtle conservatory that plays a vital role in the maintenance of the local sea turtle population. The residents of El Paredon do their part to preserve their corner of paradise. While the town is small and rural, recycling is a vital part of everyday life.
Wandering through the sandy streets of Paredon, it's easy to see the importance that the community places on their natural environment. Elaborate murals of sea life decorate the few blocks that make up the town of El Paredon. Every morning at 5:45 AM, juvenile sea turtles are released into the wild from the beach by the conservatory, an event not to be missed by travelers. To combat damages of poaching, the Driftwood Surfer Hostel raises money to buy eggs off the poachers and donates them to the conservatory.
There's more than just surf.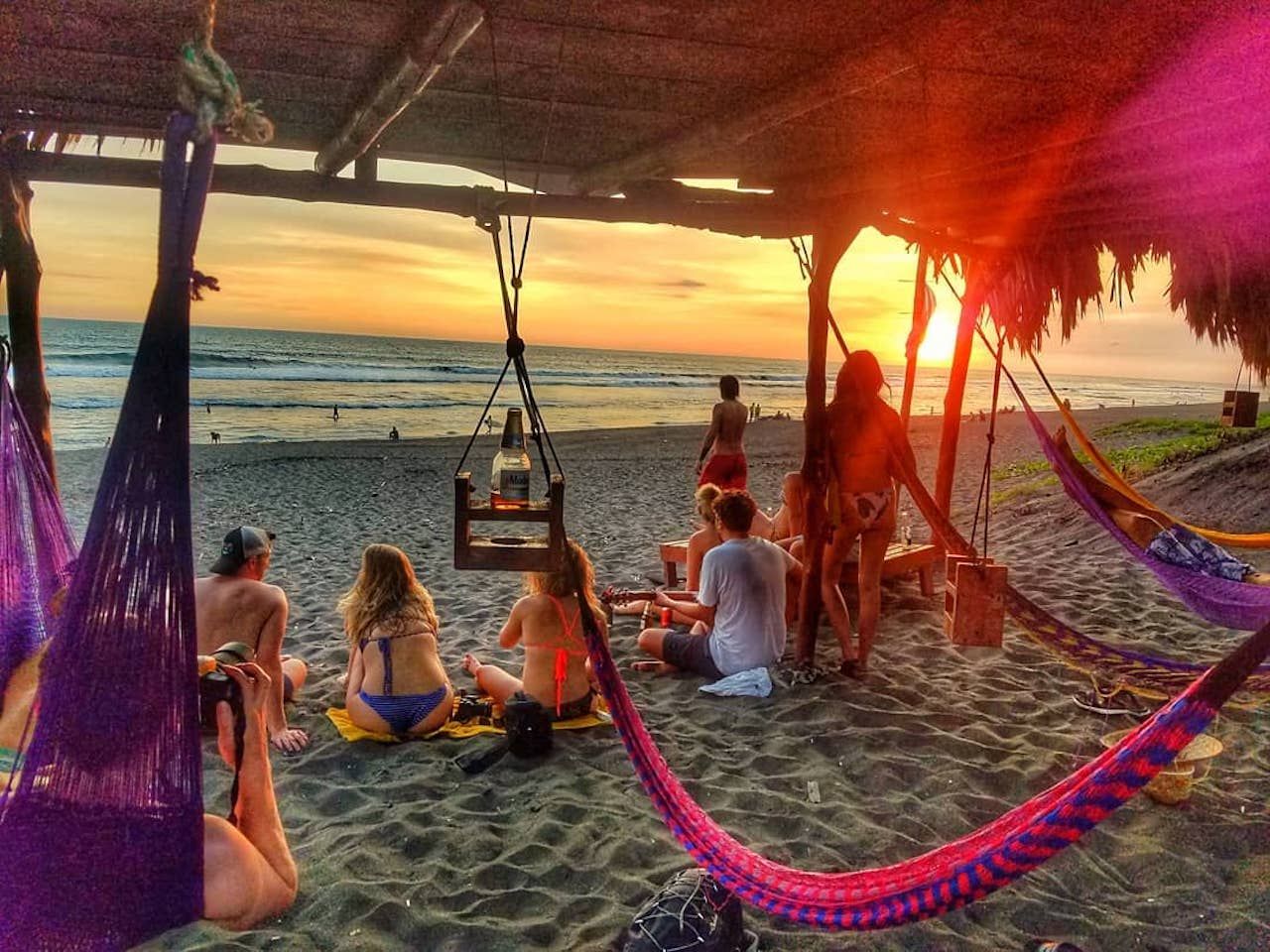 Photo: The Driftwood Surfer/Facebook
El Paredon's cavernous barrels and empty line-ups may draw surfers from all over the world, but many of the travelers who set foot on the black sand beach in El Paredon don't surf. El Paredon's development as a surf town has coincided with its evolution as a must-see beach town for backpackers traveling through Central America. If you're not spending hours on end in the water in El Paredon, your days are most likely filled with morning yoga sessions at Cocorí Lodge, ample pool time, tours through the mangroves by kayak or paddleboard, visits to the sea turtle hatchery, sand volleyball games, and plenty of Gallo beer.
Nights in El Paredon can be relaxing, but when the weekend comes around, the town comes to life with beach bonfires, live music at Cocorí Lodge, and drinking games at the Driftwood Surfer. The town has long been a weekend retreat for locals seeking an escape from the commotion of Guatemala City and expats living in Antigua. So, in addition to backpackers from the States, Australia, Europe, and Israel, travelers will find themselves mingling with locals from El Paredon, weekenders from the city, and aid workers from Antigua.
While it may not be listed in any guidebooks or surf magazines as a premier Central American surf and beach destination, that may soon change. For now, El Paredon stands as one of the few destinations that beckon to the origins of surf travel, existing isolated out of the reach of mainstream tourism, internet, and crowds. Get there soon.